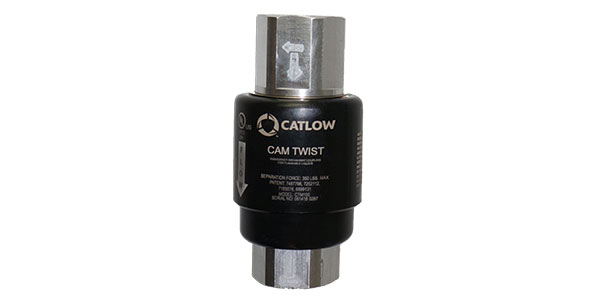 In-Line breakaway
Catlow's CAM TWIST Magnetic In-Line Breakaway design is the future of breakaway technology.
The CAM TWIST gives you the assurance of a breakaway that will preform when you need it most. The CAM TWIST breakaway is held together with powerful "Rare Earth Permanent Magnets". There is no other breakaway that gives you the option to easily disconnect, inspect and reconnect while installed. With a twist the breakaway can be taken apart and inspected for damage, corrosion and wear without removing the breakaway from service. There will no longer be the need to have a 'remove by' date on your breakaway.
The CAM TWIST is designed to be installed between the fuel dispenser and the nozzle. to inspect the unit, two wrenches applied to opposite ends of the breakaway with a twisting motion mechanically separates the unit. The unique design seals the internal components before separation is complete, thus reducing any exposure to product and any environmental impact. With the cam twist Magnetic 'snap-back technology' alignment and reconnection is easy. Align the two halves together and let the magnets do the work while pushing the unit back together. It's that easy! As a cost saving feature, Catlow has designed a replacement lower half of the breakaway. If a lower half is lost due to drive-off, a replacement lower half can be ordered saving you money.
UL/ULC listed
Meets NFPA 30A codes
CTMCA model is CARB Certified
Patented Magnetic Snap-back technology
Resists "Hydraulic Hammer" problems
Regular maintenance is not required but is available as an option
The only onsite, inspectable breakaway with no "remove by" date
Industry-leading, max separation force designed at 350 lbs.
Reduces environmental impact and ensures no leaking with a double O-ring seal
Consistent separation force after multiple reconnections
Payback after second drive-off
Fastest reconnect on the market
Minimal tools required for reattachment
Replacement lower half of breakaway is available
12-month warranty
Ordering Specifications
Model Number Description
CTM75 - 3/4" CAM TWIST Breakaway
CTM100 - 1" CAM TWIST Breakaway
CTMVA - Vac Assist CAM TWIST Breakaway
CTMCA - California Vac Assist CAM TWIST Breakaway